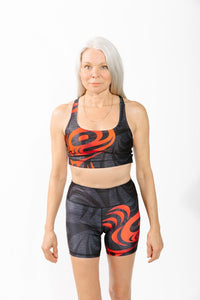 NM1-158 Hyacinth Bra – Salmon Run Black
NoMiNoU
Regular price $69.99 Sale
Hyacinth Bra – Salmon Run Black
This sports bra is perfect for yoga, running, swimming or any kind of movement.
Get ready to take your workout to the next level with NoMiNoU's sports bra – the ultimate blend of comfort, support, and style. Crafted from super soft materials, this sports bra features an internal liner for extra coverage and cup pockets, ensuring you can move with ease and confidence. The flatlock seams provide extra comfort and stay in place fit so you can focus on your workout without distractions. And with a flattering crossback strap detail, you'll look as good as you feel. Whether you're hitting the gym or hitting the trails, NoMiNoU's sports bra has got you covered
The salmon run is a symbol of joy and of feasts to come. The salmon run brings families together. It places focus on the tradition of providing for one's family and cultivating joy from the quality of life salmon provides. Print designed by NoMiNoU featuring art by Ovila Mailhot.