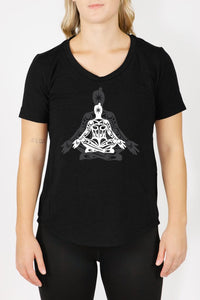 NM1-033 Women's T-Shirt – RHV Cross Legged Open Arms/ White
NoMiNoU
Regular price $71.99 Sale
Women's T-Shirt – RHV Cross Legged Open Arms
Everything is hand-screen printed with eco-friendly water-based inks.
Introducing the NoMiNoU Women's T-Shirt – the ultimate combination of style and comfort for the modern woman on the move. With its flattering scoop neck and curved hem, this t-shirt is designed to fit and flatter every body type. Made from high-quality materials, it's durable, breathable, and comfortable, making it the perfect choice for any casual occasion. Whether you're running errands, hitting the gym, or just lounging at home, this versatile t-shirt is the perfect addition to your wardrobe. Pair it with your favorite pants, shorts, or leggings to create a look that's uniquely you.
In legends, Raven is credited for releasing the Sun and creating the Moon, Stars and Universe. Eagle is respected for its intelligence and power, as well as its extraordinary vision. Yin Yang is not indigenous to the Haida art form but incorporating the symbol depicts how Eagle & Raven seemingly opposite or contrary forces may actually be complementary. Print designed by NoMiNoU featuring art by Eric Parnell.