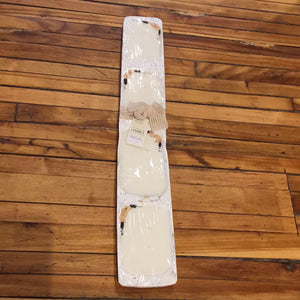 LC2-006 New Beginnings- Natural Coconut Wax Candle
Lovanli Candles
Regular price $150.00 Sale
Lovanli candles are made with love. Their purpose is to give out positive energy and a beautiful aroma!
Delicately scented, crystal infused natural coconut wax candle.
Black Tourmaline crystal represents purification and the cleansing of the emotional body. Promotes sense of power, self confidence, It can also offer protection from negative energy surrounding you.
Scents: Citrus, Berries, Fir Balsam, Cedar, Moss, Vanilla Bean
-Handpoured
-Vegan
-Lead free cotton wicks
-Phalates and parabens free
-Coconut wax
- 60oz, burns approximately 200 hours

Size: 6" x 39"