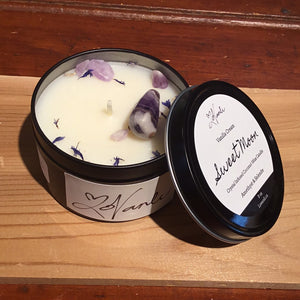 LC2-002 Sweet Moon- Natural Coconut Wax Candle
Lovanli Candles
Regular price $30.00 Sale
Lovanli candles are made with love.  Their purpose is to give out positive energy and a beautiful aroma!

-Infused with crystals, flowers & herbs
-Handpoured
-Lead free cotton wicks
-Phalates and parabens free
-Coconut wax
-8 oz, burns approximately 40 hours
(Intuition & Mental clarity)
Sweet Moon candles are embedded 
with cornflowers which embodies a 
sense of modesty.  
It's veiled with kisses of super 
activating selenite crystals. It serves 
to heighten your intuition and 
activating spiritual awareness. While 
amethyst promotes mental clarity 
that allows to enhance decision 
making abilities to promote truth and 
honesty in your relationships.