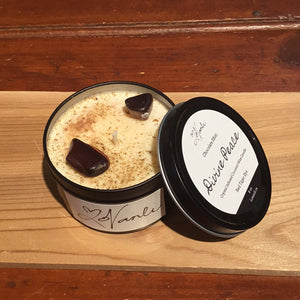 LC2-003 Divine Peace- Natural Coconut Wax Candle
Lovanli Candles
Regular price $30.00 Sale
Lovanli candles are made with love. Their purpose is to give out positive energy and a beautiful aroma!
-Infused with crystals, flowers & herbs
-Handpoured
-Lead free cotton wicks
-Phalates and parabens free
-Coconut wax
-8 oz, burns approximately 40 hours

Divine Peace
Red Tiger Eye
(Inner peace & calmness)

Divine Peace candles are topped with
mint leaves and delicious cocoa dust
which brings in strength. In
complimentary with Red Tiger eye
crystals that promotes inner peace
and calmness. Helping to bring the
mind and body into a state of calm,
aiding you to boost your confidence
in achieving goals and passion.